Gilbert Keith (G.K.) Chesterton (1874-1936)
is perhaps best known for his detective stories about Father Brown, a Roman-Catholic priest. However, Chesterton was also a poet, philosopher, dramatist, journalist, orator, literary and art critic, biographer, lay theologian and Christian apologist; and another one of those authors that influenced and was highly praised by C.S. Lewis.
I have read the Father Brown stories in the past – and last year also watched an enjoyable BBC drama series based on them (set in the 1950s, although the original stories were written 1911-1935).
Now I decided to have a go at a novel from 1908 with the intriguing title
The Man Who Was Thursday: A Nightmare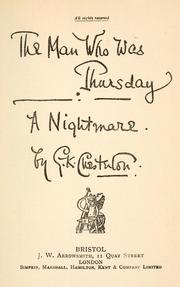 Just like my last read, this book too turned out to be one of those not easy to categorize. I knew very little of it beforehand; and as I think that is really the best way to read it, I in turn don't want to reveal too much. So rather than give away plot details, I shall try to just share how I felt about it.
Right from the start it struck me as a rather creepily up-to-date read from the aspect that one of the major themes has to do with anarchism/ terrorism and a bomb threat to a major European city. It also crossed my mind quite early on (from a certain scene), that this might well be another one of all the books from which J.K. Rowling picked some inspiration for Harry Potter. Anyway, in spite of the serious (and indeed, as the title suggests, nightmarish) background, and some deeply moral and philosophical discussions – this story does not only keep up a high degree of suspense, but it also includes a lot of unexpected twists and turns and a good deal of humour. (Sometimes I even laughed out loud.) I found it very hard to put down – I just wanted to keep on reading to see what happened!
A quote for Teaser Tuesday
"They were a balconyful of gentlemen overlooking a bright and busy square; but he felt no more safe with them than if they had been a boatful of armed pirates overlooking an empty sea." (p. 66)