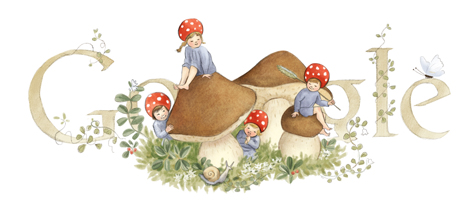 Google did it again – distracted me from whatever it was I originally intended to look up… And this in spite of the image keeping still this time! But I recognized it, and knew the artist behind it. What I did not know was that today was her 139th birthday…
Elsa Beskow (née Maartman) (11 February 1874, Stockholm – 30 June 1953) was a Swedish author and illustrator of children's books.
And I do remember the Children of the Forest (Swedish: Tomtebobarnen) from my childhood.
Tomtebobarnen (early 1900s, Nationalmuseum Stockholm)
Little elves playing with Tomtebobarnen/Children of the Forest (1910)
Elsa Beskow frequently combined reality with elements from the fairy tale world. She became one of the most well known of all Swedish children's book artists. Many of her books are continually reprinted.
Beskow also illustrated ABC books and songbooks for Swedish schools.
Illustrated poem/song about sleeping trees in winter
(early 1900s, Nationalmuseum Stockholm).
I'll be linking this post to ABC Wednesday (E for Elsa)
(unless I get distracted again and forget…)